Reliable Propane Delivery & Services in Colorado
For more than 30 years, Global Propane Inc. has been serving the Front Range area of Colorado state with expert propane services and unbeatable customer service. Built on three decades of hard work and dedication to our communities, we are the leading propane fuel and service provider in the area. From reliable, fast fuel delivery to professional propane tank installations, you can always count on us for your home energy needs.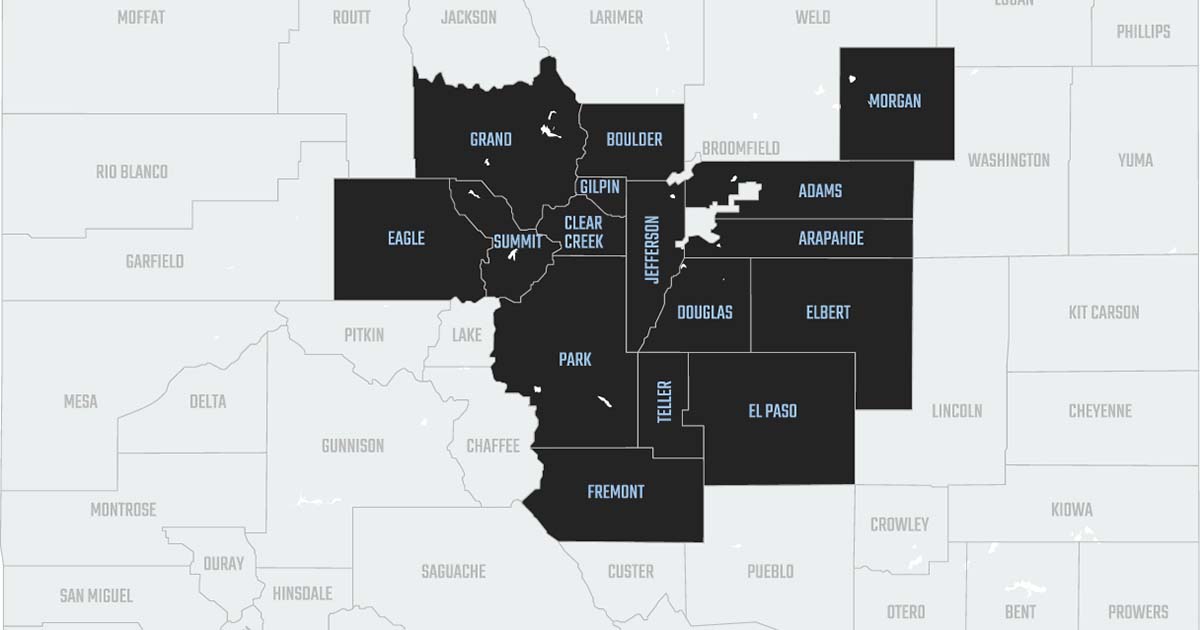 ---
Where We Serve
Global Propane Inc. provides quality home heating oil and propane delivery and service to the following areas of Colorado. We proudly serve the Adams, Arapahoe, Clear Creek, Douglas, El Paso, Elbert, Gilpin, Jefferson, Morgan, Park, and Teller Counties. Check out our town list below to find out if we're in your area. If your area is not listed, please contact us to see if we can help service your area.
---
Adams County
Aurora, CO (80040, 80042, 80045)
Bennett, CO (80102)
Strasburg, CO (80136)
Watkins, CO (80137)
Brighton, CO (80601, 80602)
Henderson, CO (80640)
Arapahoe County
Byers, CO (80103)
Deer Trail, CO (80105)
Littleton, CO (80120, 80121, 80122, 80160, 80161, 80165, 80166)
Englewood, CO (80150, 80151, 80155)
Denver, CO (80247)
Clear Creek County
Dumont, CO (80436)
Empire, CO (80438)
Georgetown, CO (80444)
Idaho Springs, CO (80452)
Silver Plume, CO (80476)
Douglas County
Castle Rock, CO (80104, 80108, 80109)
Franktown, CO (80116)
Larkspur, CO (80118)
Lone Tree, CO (80124)
Littleton, CO (80125, 80126, 80129, 80130, 80163)
Louviers, CO (80131)
Parker, CO (80134, 80138)
Sedalia, CO (80135)
El Paso County
Elbert, CO (80106)
Monument, CO (80132)
Palmer Lake, CO (80133)
Calhan, CO (80808)
Cascade, CO (80809)
Fountain, CO (80817)
Green Mountain Falls, CO (80819)
Manitou Springs, CO (80829)
Peyton, CO (80831)
Ramah, CO (80832)
Rush, CO (80833)
USAF Academy, CO (80840, 80841)
Yoder, CO (80864)
Elbert County
Agate, CO (80101)
Elizabeth, CO (80107)
Kiowa, CO (80117)
Matheson, CO (80830)
Simla, CO (80835)
Gilpin County
Black Hawk, CO (80422)
Central City, CO (80427)
Rollinsville, CO (80474)
Jefferson County
Littleton, CO (80123, 80127, 80128, 80162)
Golden, CO (80401, 80402, 80403, 80419)
Buffalo Creek, CO (80425)
Conifer, CO (80433)
Evergreen, CO (80437, 80439)
Idledale, CO (80453)
Indian Hills, CO (80454)
Kittredge, CO (80457)
Morrison, CO (80465)
Pine, CO (80470)
Morgan County
Orchard, CO (80649)
Weldona, CO (80653)
Wiggins, CO (80654)
Fort Morgan, CO (80701)
Log Lane Village, CO (80705)
Brush, CO (80723)
Hillrose, CO (80733)
Snyder, CO (80750)
Park County
Alma, CO (80420)
Bailey, CO (80421)
Como, CO (80432)
Fairplay, CO (80440)
Grant, CO (80448)
Hartsel, CO (80449)
Jefferson, CO (80456)
Shawnee, CO (80475)
Guffey, CO (80820)
Lake George, CO (80827)
Teller County
Cripple Creek, CO (80813)
Divide, CO (80814)
Florissant, CO (80816)
Victor, CO (80860)
Woodland Park, CO (80863, 80866)